Introduction
Welcome to the authorial website of Janice M. Mueller. Based in Lexington, Kentucky, Janice is the sole author of two patent law treatises, co-founder of the Chisum Patent Academy, a full-time academic teaching patent and intellectual property courses for 16 years, a former U.S. Justice Department patent litigator, and a law clerk (1990-92) to Judge Giles S. Rich of the U.S. Court of Appeals for the Federal Circuit. Janice's published writings and commentary focus on the patent law decisions of the Federal Circuit, which holds exclusive appellate jurisdiction for U.S. patent cases and proceedings, and the U.S. Supreme Court.
Mueller on Patent Law for Practitioners
Mueller on Patent Law is a comprehensive yet accessible two-volume legal treatise for patent practitioners, available as of 2021 in hard copy from Full Court Press or in digital form on the Fastcase legal research database. This well-organized resource provides concise and timely access to U.S. patent law in the twenty-first century, focusing on game-changing Federal Circuit and Supreme Court decisions.
No longer an obscure specialty, patent law protects intellectual assets of tremendous economic value in the global economy. For better or worse, patent practitioners now confront a tsunami of information and advice offered by websites, blogs, specialty journals, and even smartphone apps. Mueller on Patent Law provides a clearly structured filter through which to absorb the content flood. Rather than a historical encyclopedia, this treatise is a carefully curated guide to understanding the current state of patent law and how it has developed during the Federal Circuit's tenure.
Volume I of Mueller on Patent Law focuses on the requirements for patentability, both pre- and post-America Invents Act of 2011 (AIA), as well as patent prosecution procedures. Volume II covers patent enforcement and validity challenges, including AIA-implemented post-issuance USPTO review. Both volumes emphasize the criticality of patent claim drafting and interpretation.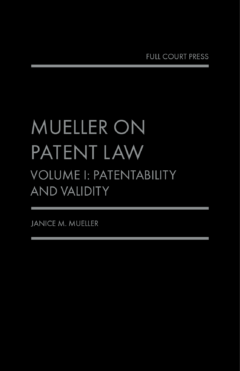 Volume I of Mueller on Patent Law covers patentability and validity. It offers a clear-cut approach to understanding the multiple, rigorous requirements for obtaining a U.S. patent. Following introductory chapters overviewing the patent system and the central importance of patent claims, Volume I explicates the cornerstone requirement of novelty and what counts as prior art under both pre- and post-AIA regimes. Volume I also tackles the amorphous landscape of patent eligibility, as well as the bedrock requirements that a patentable invention be useful and not only new but nonobvious. Separate chapters unpack the patent application disclosure requirements of enablement, written description, and best mode. Volume I concludes with chapters analyzing inventorship, the prohibition on double patenting, and the nuts and bolts of prosecuting patents in the USPTO.
Volume II of Mueller on Patent Law analyzes how patents are enforced in the United States and their validity challenged. The volume details patent litigation in the federal courts as well as the America Invents Act (AIA)-implemented proceedings for challenging patentability (IPR, PGR, and CBM). Claim interpretation, jurisdiction and procedure including recent sweeping changes to patent venue, direct and indirect liability (including inducing, contributory, and divided infringement), territoriality concerns, literal and doctrine of equivalents (DOE) infringement, prosecution history estoppel and other legal limitations on DOE liability, declaratory judgment actions, Hatch-Waxman Act pharmaceutical litigation, antitrust issues, remedies, and defenses including inequitable conduct, exhaustion, patent misuse, laches, and equitable estoppel all receive thorough and timely treatment. Because patent protection is frequently global, Volume II explores multi-national procurement and enforcement. Reexamination and reissue in the USPTO are detailed, as is the increasingly important subspecialty of design patent law.
Patent Law delivers a succinct, single-volume explanation of the principal legal doctrines, key judicial authority, governing statutes, and guiding policy considerations in obtaining and enforcing a U.S. patent.
What are they saying about Mueller's Patent Law?
This is the best of the hornbooks on the basics of the patent law. I am both a partner in a law firm who specializes in patent litigation, and an adjunct professor of law. I have been practicing in the field for almost 20 years, and I still find myself going back to this book for easy-to-find, clear and concise answers to patent law questions.